The Guru of Gypsum -- Lady Lama
has invited me to share in posting recolours that I may undertake in her Medieval Smithy. Ya know .... forging those medieval objects that we crave to burden our poor CC download folders with. So to celebrate the beginnings of a new medieval blog, I bring to you
A Knight's Honour
.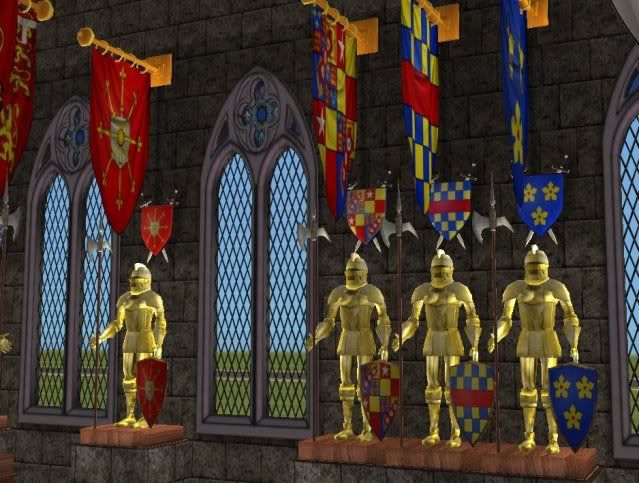 A Knight's Armour, Knight's Banner, Knight's Shield and Sword composes the set with various blasons of English, French and German coats of arms. The meshes used are: Boblishman's flag, Sims Connection's FSMCD Knight Holding, and the Great Lord So-and-So's Shield and Sword from the Castle set at the Sims Store. (Huge Thanks to

Huge Lunatic

and

Helle

at

Sims2Artists

in fixing the Knight Holding mesh. If you have the
Sim History Part
1

from Sims Connection, please let the included mesh overwrite the original.)
Boblishman's Flag:
http://www.modthesims.info/download.php?t=107209
.
Castle Set from The Sims.Ea Store:
http://thesims2store.ea.com/productList.html?scategoryId=10751&categoryId=10658
.
or from MATY:
http://www.moreawesomethanyou.com/smf/index.php/topic,13036.0.htm

l.
Scroll down the first page to the link -- Castle Set.
Meshes for the Knight's armour and the Great Lord So-And-So's Shield are included in the Knight Holding Fixed Mesh link below.
The Download links are available in 2 versions. Since the Knights Honour Series consists of 87 sets, I have broken it down alphabetically ... or an all-in-one file. Each of the files includes the .png images for each piece so you can determine which to keep or delete. Slideshow of the various banner images.
Full Set (the entire series A-W):
http://www.mediafire.com/?06beqr17q35cid7
Or for those with a slower internet, I've broken the above into smaller files.
Sets A-B:
http://www.mediafire.com/?333poaxl3c9hh13
Sets C-F:
http://www.mediafire.com/?licv25b5w7n3p1t
Sets G-K:
http://www.mediafire.com/?kq2ak0bbkzenpnt
Sets L-N:
http://www.mediafire.com/?godbmqidvsrdvld
Sets P-W:
http://www.mediafire.com/?8s4qqjb8uy6hlkn
Knight Holding Mesh Fixed:
http://www.mediafire.com/?umtsf9694kuvesv
.
(You'll need to download this file as it contains the fixed Knight's armour mesh and includes the shield mesh from the castle set.
)
I hope you'll enjoy festooning your Medieval Banquet Halls or Jousting Fields or Throne Rooms .... or whatever with
A Knight's Honou
r

!
(

Note

: I have all the games created for the Sims2, so I hope this set will work in your games if you don't.)