I had seen this mesh by
Sonnenschein from Sims2Marktplatz
and had wanted to try recolouring it for some time now. I had read a thread at The PlumbBob Keep, where someone had hoped that a mesh could be created for a layered gown but since I can't mesh (yet), I thought this mesh would be great to give an illusion of multiple layers. I know I haven't done it justice as I'm still trying to experiment with shading and overlays. I envy Sherabhims' fantastic embroidered looks and the way her shading comes through on her dress pleats. Again, I tried .... not the greatest, but not bad in my opinion. Still room for improvement though. (Hopefully she might share her exact methods on how she does this sometime soon ..... the
.png images
she uploaded for her fantastic dresses will give inspiration until then). So, I've made a "look" for those royal, noble and merchant ladies to use within your medieval neighbourhoods. I hope you might enjoy them. In-game views of a few gowns.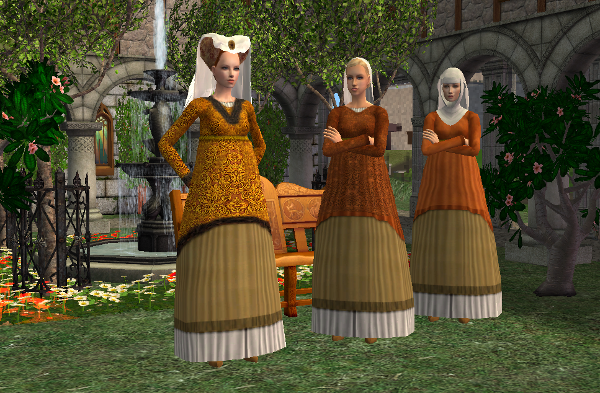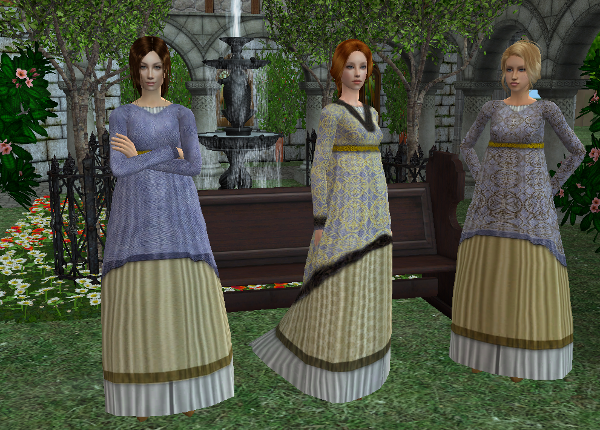 There "should" be 25 sets containing a gown for royal ladies -- with fur trim and gold brocade; nobles -- without fur trim and simple brocade; and merchants -- no brocade, simple fabric only. I'm not sure if I got them all into a picture though.
Download Here -- Meshes Included
. Since the site for the mesh is in German, I couldn't find a recolouring policy for Sonnenschein. If anyone finds that it may not be included, please let me know so that I may adhere to her wishes. And if you haven't registered at Sims2Marktplatz yet ... DO ... they have some wonderful things there.