(Also posted at The Keep)
Ophidiae created a
new regency recolours set
for her neighbourhood that she had posted to The Keep. In it are a couple of military-style uniforms. I thought they looked great and commented about needing some of the hats that I had seen from Share CG. So, I grabbed them and added the
bicorne hat created by Varsel
to the Sims 2. The hat is wearable by both sexes, teen to elder. The images are from Bodyshop with Amroth as the model for the adult male. I didn't grab images of the other sex/ages. The "cockades" were from Wikipedia for the various nations they had published. I tried to use ribbons from the various realms/nations of the 18th century.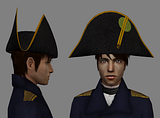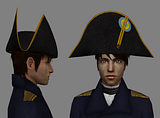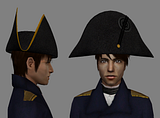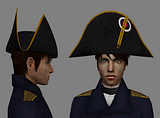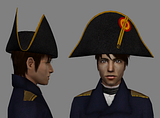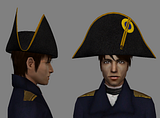 The next project with this specific hat will be more decorative. An added plume! And also, just a good old plain hat.
Grab'em here!
sir caleb was asking about epaulettes for the game. I had never seen any so I made a set!
I only made them available for males -- teen to elder. Easy to recolour. 1562 polycount.
Grab the Epaulettes here!