I had hoped to have a larger set ready, but my computer has been sounding it's final death rattle over the last week ...
sigh
. But I do have these prepared so I shall present them
"as is"
for my gift to everyone at the Smithy. Thanks to the fabulous Pykkadilly for coming to my rescue and taking these pictures ingame for me. I didn't want to risk a melt-down opening my game to do them!
Nobles and Merchants
... or whatever!--
Download Here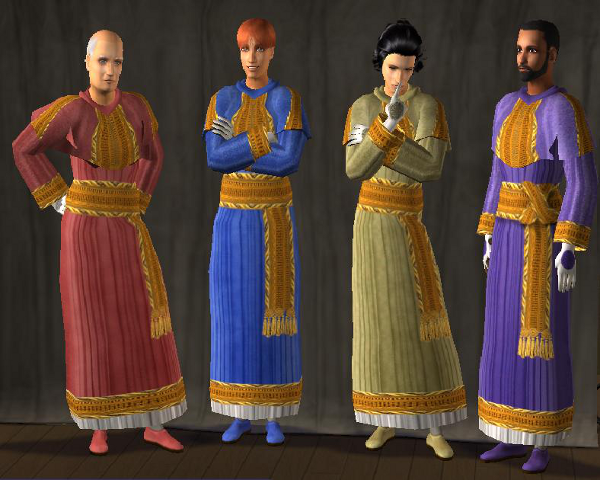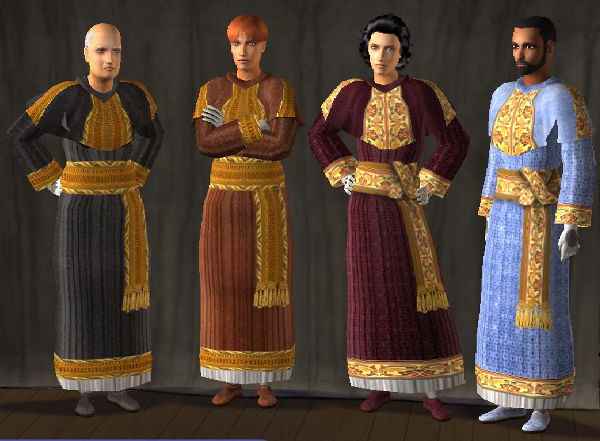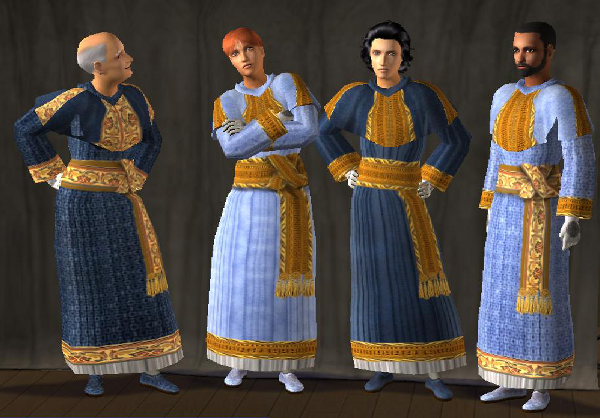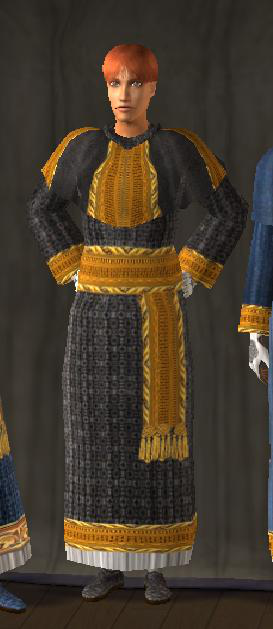 They use the Blush textures/fabrics from
here
. There are 2 outfits for each colour used. One has a small detailed print and the other is the solid colour (indicated by the number "2" in the .package file name) so you can delete those you don't want within your game. I promised Pykkadilly I would do these, the remaining textures to come and those in the
Holier Than Thou
thread, without the gloves, when I receive my new computer. My birthday present to myself .... as today happens to be my birthday as well. *insert :P smilie here* ... hehehe. They are available for Young Adult, Adult Male and Elder Male. I made the changes in SimPE to enable the recolours for the Elder males to wear. I've also made those changes to the Holier Than Thou outfits if you wanted to re-download them in that thread (a separate link). Allow them to over-write my recolour files. I
haven't
checked them in-game because ... well, you know .... death rattle in the PC scenario!
The original mesh was created/edited by
Aligeth
and
Oph3lia
respectively, of the Friar Tuck mesh. The original mesh by Aligeth was edited by Oph3lia, leaving out the crucifix and other small tweaks. It is included within the download link as per her TOU policy.
So, I wish
Lama
a
Happy Anniversary
on the creation of the fantastic journey we've all enjoyed here at
The Medieval Smithy
. To Amy, Cynnix, Eva, Jenny, Michelle, Román, and Sunni -- Thank You for your wonderful gifts to the site. And to all those talented people out there whose meshes/objects/clothing etc we have had the pleasure to recolour -- Thank You for your creations!! And most of all, to all of You! Thank You for visiting us here.